La Viña Cheesecake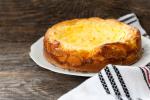 Preparation time: 60 min. high difficulty
Try this delicious cheesecake! We pay tribute to one of the most famous cheesecakes in Spain, the cheesecake from La Viña, the famous San Sebastián restaurant. In our version we add a splash of Natur All almond drink to make it a little creamier.
Used Products:
Ingredients
570 g of creamy cheese
4 eggs
230 g of sugar
15 g of flour
280 ml of liquid cream (minimum 35% fat)
50 ml of Natur All almond drink
Preparation
Weigh and prepare all the ingredients.
Add the cheese, eggs, sugar, cream and the Natur All almond drink in a bowl. Beat until smooth.
Preheat the oven at 200 ºC.
Line an 18-cm, high-walled baking tin with moistened, crumpled greaseproof paper. Let the surplus stand out.
Pour the mixture into the mould and bake in the lower part of the oven for 40 minutes at 200º C
When the cake has set, turn off the oven, open the door a little and let it cool down inside.
We keep the cake in the fridge from one day to the next. To eat it, we take it out of the fridge 1 hour before, unmould it and cut it into portions.