Pineapple and coconut Ice Lolly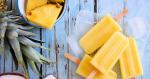 Preparation time: 5 min. low difficulty
This summer, we are all hungry for fresh, healthy ideas. Once you discover these ice lollies, based on our creamy Cool Coco Natur All Drink, you will surely think: Are they really so easy to prepare? Take advantage and get the kids into the kitchen. The fun is guaranteed!
Used Products:
Ingredients:
240 grs of sliced pineapple
20 gr. of brown sugar or panela (optional)
150 ml of Cool Coco Natur All Drink
Preparation:
Mix the pineapple dices, Cool Coco Natur All Drink and brown sugar.
Mix well in blender.
Fill the ice cream moulds up to the mark and freeze for at least 4 hours.
Unmould and get ready to go!