Spinach and banana Smoothie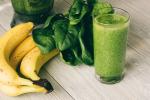 Preparation time: 5 min. low difficulty
A fresh and healthy drink, easier than ever, you will love it. Ideal for breakfast or snacks.
Used Products:
Ingredients:
4 portions
1 ripe banana
300ml of Just Natur All Rice Drink
100 g of fresh spinach
2 plain yogurts
200 g of ice cubes
Preparation:
Put all the ingredients in the mixer and beat until you have a homogeneous shake.
Serve fresh!