Apple Pie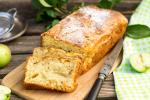 Preparation time: 5 min. low difficulty
Now you can enjoy a delicious cake full of flavour and suitable for those intolerant to lactose or cow protein.
Used Products:
Ingredients:
200 g of sugar
3 eggs
120 ml of Natur All Calcium Rice Drink
180 g of flour
1 sachet of baking powder
80 g of olive oil
2 apples (about 150 g)
50 g of currants
Salt
Preparation:
Assemble the mixing paddle. Add the sugar and eggs and beat for 2 minutes.
Add the rice drink, the flour, the salt, the yeast and the oil and programme for 1 minute.
Peel the apples and cut them into dices. Add them along with the raisins and programme for 1 minute.
Bathe the inside of a mould with oil and then sprinkle with flour, removing the excess. Pour the mixture and bake for 60 minutes at 160º. Periodically check that it is done by pricking it with a metal stick or knife. Once it comes out clean, the cake will be ready.
Take it out of the mould and let it cool down.