Vegan zucchini cream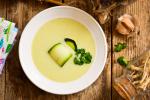 Preparation time: 30 min. medium difficulty
To help you pamper yourself, here is a vegan zucchini cream recipe that can be both a winter dish to warm up and a summer one if served as a cold cream. With our almond drink, we give it a soft and creamy touch.
Used Products:
Ingredients
1 zucchini
2 spring onions
1 leek
1 garlic clove
1 l of vegetable stock
220 ml of Natur All almond drink
30 ml of EVOO (Extra Virgin Olive Oil)
4 g of Fresh parsley
4 g of Ground black pepper
4 g of Salt
Preparation
Wash the vegetables and cut the zucchini. Chop the spring onions, the leek and the garlic.
In a pot with Extra Virgin Olive Oil, poach the spring onions and garlic. Add the leek and sauté for a few minutes.
Add the zucchini. After 5 minutes, add salt and pepper.
Add the vegetable stock or water, cover the pot and boil for 20 minutes.
Crush the contents, add the Natur All almond drink and beat again until it reaches the desired consistency.
Serve with a little extra drink in each portion and fresh parsley on top.