Carrot and banana Smoothie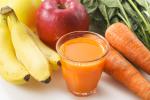 Preparation time: 5 min. low difficulty
This smoothie tastes great and adds the properties of oats to those of carrots. Got 5 minutes? That's all you'll need to feel good.
Used Products:
Ingredients:
150 ml of Barista NATUR ALL oatmeal drink
250 grams of carrots
1 oat of yogurt
1 banana
1 piece of ginger (2 cm)
1 tablespoon of panela
Preparation:
Clean the carrots well and pass them through the blender until a natural juice is obtained.
Add the yogurt, the banana, the ginger and the panela in a mixing glass.
Mix at a fast speed until you get a very light and slightly creamy texture.
Your smoothie is ready! To give it a fun touch, you can decorate the glasses with carrot leaves.