Pasta with pepper sauce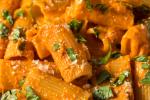 Preparation time: 30 min. low difficulty
The perfect pasta for an unbeatable meal. Amazing and really easy to prepare. Don't miss our red pepper sauce recipe for your favourite pasta.
Used Products:
Ingredients: 
500ml Natur All Just Almond drink.
175g cashew nuts.
250g roasted peppers.
1 garlic clove.
Pinch of salt.
Your favourite pasta.
Preparation:
Peel and chop the garlic and cook in with the peppers.
Cook the pasta.
Put the peppers with the garlic, cashew nuts, almond drink and salt in a blender. Grind to a homogeneous mixture.
Cook together with the pasta in a pot.