Vegan oreo cake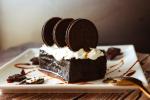 Preparation time: 30 min. low difficulty
The perfect sweet touch to finish off a good meal. Doesn't it look delicious? You can't go wrong with this recipe.
Used Products:
Ingredients:
2 oreo packs
300ml Natur All Just Oat drink
2 tsp of baking powder
200g vegan chocolate
Preparation:
Preheat the oven to 200Cº.
Crush the oreos (leave 3-4 cookies to decorate).
Add the oat drink and the baking powder, and mix it all.
Pour the mixture into a pre-oiled mold.
Into the oven for 20 minutes at 200Cº.
Melt the chocolate in the microwave in 30 second intervals.
When the cake has cooled, dip it in the chocolate and decorate it with the oreo that we left at the beginning.