Coconut Pannacotta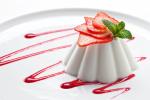 Preparation time: 15 min. low difficulty
A classic of Italian pastries with the subtle sweetness and sponginess of our Natur All Barista Coconut Drink. It can be prepared in only 15 minutes and with only 5 ingredients. What are you waiting for to try it out?
Used Products:
Ingredients:
200 g of whipping cream
2 tablespoons of neutral gelatine powder (you can also use agar-agar)
400ml of Cool Coco Natur All Drink
30 g of brown sugar
1 vanilla pod
Preparation:
In a bowl, add the cream and the powdered gelatine. Allow the gelatine to soak for 5 minutes.
Add the Natur All Barista Coconut Drink, brown sugar and vanilla and place in a pot.
Heat on medium heat until the gelatine is completely dissolved. Stir frequently and do not let it boil.
Strain and pour into small glasses. Keep in the refrigerator for at least 4 hours. Serve cold and decorate it as you like: red fruits, small pieces of coconut... Imagination rules!