Pea and mint Detox Cream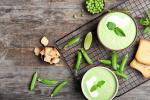 Preparation time: 10 min. low difficulty
Our body stores toxins day by day due to food, environmental pollution and just plain stress. With this cream you will have the perfect ally to eliminate them. It is refreshing, digestive and, of course, delicious.
Used Products:
Ingredients
200 grs. of fresh peas
1 medium-sized potato
1 piece of ginger (2 cm)
10 mint leaves
Some seeds (flax, sesame, poppy, etc...)
150 ml of Natur All Organic Soya Drink
1 tablespoon of olive oil
1 glass of water
1 pinch of salt and pepper
Preparation
Start by peeling the potato and cutting it into irregular pieces, put it into a large pot and add the peas, ginger, mint leaves and our Natur All Organic Soya Bean Drink.
Put it on medium heat and leave to cook for approximately 30 minutes. Once ready, grind with an electric arm, add the oil, salt and pepper and place in the bowls.
Prepare a small mixture of seeds and put them on top with some mint leaves. It smells and tastes great!