Chocolate and coffee iced bonbons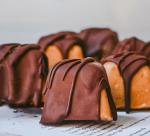 Preparation time: 15 min. low difficulty
One of our favourite snacks in summer. Sweet, delicious and refreshing. 
Used Products:
Ingredients: 
1/4 cup of Natur All Just Soya drink
1 banana
1 coffee shot
80gr dark chocolate
Grind all the ingredients except for the chocolate.
Put the mixture in a iced cube tray and freeze for 3 hours. 
Melt the chocolate and cover the bonbons with it.
Refrigerate for 15 minutes.