Porridge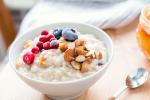 Preparation time: 10 min. low difficulty
Who said a healthy breakfast was boring? With this quick recipe there can't be a better way to take care of yourself. And as it is highly flexible, it can change depending on the season, on what you have at home or on what you want: there are a thousand possible combinations!
Used Products:
Ingredients:
1/3 cup of oat flakes
1/2 cup of Natur All Oatmeal Calcium Drink
1/3 cup of vegetable yogurt
Half a banana
A pinch of salt
A pinch of cinnamon
Fresh fruits, nuts or seeds as topping
Preparation:
Separate the toppings, pour the rest of the ingredients into your favourite bowl and stir.
Leave the mixture in the fridge overnight.
Take it out of the fridge in the morning and mix and match with whatever you like.
Also remember that our Natur All Calcium Oatmeal Drink is enriched with calcium and vitamins - we can't think of a better way to start the day!