Asparagus gratin with mushrooms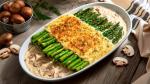 Preparation time: 40 min. medium difficulty
This recipe for asparagus gratin is ideal if you're looking for a creative and nutritious side dish.
Used Products:
Ingredients: 
200ml Natur All Just Oat drink
1 bunch of green asparagus (250g)
6 mushrooms cut into slices
1/4 onion cut into julienne strips
3 tbsp. oat flour
Salt and ground pepper to taste
100g vegan cheese (optional)
Preparation:
Put a frying pan on the heat without oil with the mushrooms and a pinch of salt.
Add 3 tablespoons of extra virgin olive oil, the onion and fry for 5 minutes.
Add the flour and cook, stirring constantly, for 3-4 minutes. Lower the heat and pour in the previously heated oat drink with some salt and pepper. Stir, while it thickens and in 7-8 minutes it will be ready.
Wash the asparagus and put them on a tray. Cover themn with the mushroom bechamel sauce.
(optional) Add cheese on top.
Bake for 10 minutes at 200ºC and grill for 3-4 minutes in the upper part of the oven.