Almond and Berry Smoothie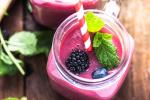 Preparation time: 5 min. low difficulty
For breakfast or as a snack, this smoothie is ideal for the whole family. Taste the best of the almond with a touch of berries. A healthy and delicious way to take care of yourself.
Used Products:
Ingredients
200 ml of Natur All Sugar Free Almond Drink
40 g of strawberries
45 g of blueberries
40 g of raspberries
1.5 g of basil
Mint leaves
Preparation
Wash and chop the fruits
Put them in the blender along with the basil.
Add the Natur All Sugar Free Almond Drink
Stir, serve and enjoy! Crown it with a mint leaf for an extra touch of freshness.