Sweet potato curry cream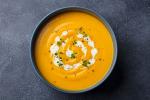 Preparation time: 10 min. low difficulty

This exotic and tropical recipe will make your palate travel. It will charm you with its simplicity and will fill your dish with flavour and aromas.

Used Products:

no hay productos
Ingredients:
1 kg of peeled and chopped sweet potatoes
1 onion, chopped
2 cloves of garlic
1 teaspoon of ground ginger
1 tablespoon of red curry paste
1 l of chicken or vegetable broth
250 ml of Cool Coco Natur All Drink
Coriander
Preparation:
Heat some oil in a saucepan. Fry the onion and garlic for a couple of minutes. Add the ginger and curry, stir and add the sweet potatoes.
Cover with the vegetable stock, bring to a boil and simmer for about 15 minutes or until the sweet potato is very soft.
Turn the fire off, add the Cool Coco Natur All Drink and crush it into a very fine cream.
Serve with a sprig of coriander on top... and enjoy!