Veggie Mayonnaise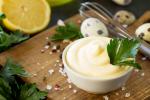 Preparation time: 5 min. low difficulty
Amazing and really easy to prepare, this egg-free mayonnaise will serve as the perfect complement to any of your dishes. Whether you are a vegan or not, go ahead and try it!
Used Products:
Ingredients:
100 ml of Just Natur All Soya
50 ml of olive oil
1 parsley stick
1 garlic clove
A few drops of lemon juice
Salt
Preparation:
Mince the parsley and the garlic.
Put them in the blender together with the Just Natur All Soya Drink, the oil and some salt.
Mix for 20 seconds and add a few drops of the lemon, so the mixture will start to emulsify.
Keep it in the fridge for at least 2 hours so that it gains more texture.