Pistachio ice cream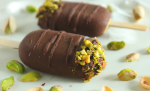 Preparation time: 10 min. low difficulty
Summer is here and we couldn't miss an ice cream recipe, so…we bring you this delicious PISTACHIO ICE CREAM recipe, healthy and delicious! 
Used Products:
Ingredients: 
A glass of Natur All Just Soya drink
1 avocado
6 dates
Half a glass of pistachios
      Topping:
Preparation:
Put all the ingredients in a blender (soya drink, avocado, dates and pistachios) and blend until a creamy mass is obteined. 
Put the mixture into ice cream moulds and to the freezer for 5 hours.
Meanwhile, melt the chocolate and crush the pistachios.
Put the chocolate in a deep glass and put the ice creams in it to coat them with chocolate. Put some pistachios on top before the chocolate cools and that's it!