Vegan lemon cake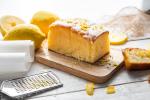 Preparation time: 30 min. low difficulty
The perfect way to start the day. This vegan lemon cake is the perfect fresh and sweet touch for your early mornings. Don't you wanna try it?
Used Products:
Ingredients: 
1/3 cup of Natur All Organic Rice drink
2 cups of flour
1 cup of sugar
2 tsp baking powder
1/4 tsp salt
1 tsp vanilla extract
1/3 cup lemon juice
zest of 1 large lemon
1/2 cup melted vegan butter
Preparation:
Preheat the oven to 180Cº.
Mix all the dry ingredients in a bowl (flour, sugar, baking powder, salt).
Mix all the wet ingredients in another bowl (melted vegan butter, lemon juice, vanilla extract, rice drink, lemon zest).
Put everything together and mix.
Put it in a greased baking tin and bake in the oven for 50-60 minutes.