Choco-lovers Smoothie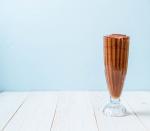 Preparation time: 10 min. low difficulty
A creamy nutritive and restorative shake thanks to the combined properties of fruit, nuts and soya. Save it for a busy morning or a snack when you or your loved ones need a good energy burst. A healthy temptation you won't be able to resist.
Used Products:
Ingredients
1 litre of Natur All Chocolate Soy Drink
3 pears
150 g of cashew nuts
3 cardamom seeds
Preparation:
Remove the heart from the pears and chop the pears.
Put them into the blender with the cashews, Natur All Chocolate Soy Drink and cardamom seeds.
Mix well until it is smooth and creamy.
Decorate with some pear slices and some cashew nuts and, if you wish, some cocoa powder. Choco-delicious!