Oatmeal Cookies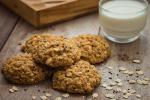 Preparation time: 40 min. medium difficulty
Do you have a dinner party with friends or family and don't know what to make for dessert? Today we offer you some light and simple cookies that are sure to entice all your guests.
Used Products:
Ingredients:
100 gr. of butter at room temperature
120 gr. of brown sugar
1 egg
A pinch of salt
150 gr. of wholemeal flour
4 grams of baking powder (¼ teaspoon)
1 tablespoon of honey
4 tablespoons of Just Natur All Oatmeal Drink
100 gr. of oat flakes
Preparation:
Preheat the oven at 200º.
Put the butter and sugar into a bowl and beat with a stick machine for 5 minutes. Add the egg and salt, and beat for another 2 minutes.
Stir in the flour, yeast, honey, oatmeal and Just Natur All Oatmeal Drink until it forms a smooth dough.
Divide this mixture into tablespoons, and spread on a sheet of baking paper. Leave space between them, as they will swell in the oven.
Bake them until they are golden: 15 or 20 minutes will be enough.